December 11, 2022
Foundation has been backfilled and graded
Scaffolding erected for the starting of block walls.
Property grading pretty much completed
Work on installing fence and guardrail to begin next week..
December 3, 2022
Concrete forms removed.
Removal of extra dirt from grade preparation.
Temporary water and electrical services installed.
South retaining wall completed
North retaining wall completed
Installing of concrete block and insulation on footer walls.
November 11, 2022
Station Project continues to see progress. This week the following was completed.
1. Concrete footer wooden forms removed from last week's pour.
2. Footer wall forms were erected and supported and ready for pour next week due to rain today.(Friday)
3. Removal of most of the extra material was completed so sight is started to show more of the finish grades.
4. North retaining wall material was placed and prep work completed for this work to start next week also.
5. Front apron area graded to make ease for concrete trucks delivery next week.
6. Several people showed up to vote at Legion on Tuesday, they were a little surprised!
November 4, 2022
Work for the past week has been the following.
Footers framed and poured this morning
Rebar up and ready for framing and pouring of concrete next week.
Grading work continues in front apron area.
North retaining wall excavation work proceeding for wall construction next week.
So building outer walls are easy to see where they will be, grade of property is starting to look closer to finish grade in regards to building.
September 15-30, 2022
On 9/15 Upstate moved equipment on site to start removal of trees and some site work while awaiting permission from NYS for Gorick Construction to be able to start tear down the Legion building. This work continued for 2 weeks. Tree and stump removal, excavation on south retaining wall, removal of the pavilion, guardrails, electric and gas and water service to the building.
Material for water, sewer and drainage was delivered to the site as was block for the south retaining wall.
The state gave Gorick the okay to start demolition on the 29th and Atlantic Testing was set up to do air monitoring during demo. Demolition started on 9/30 and will continue into next week as will removal of the building debris.
Station #4 Replacement Project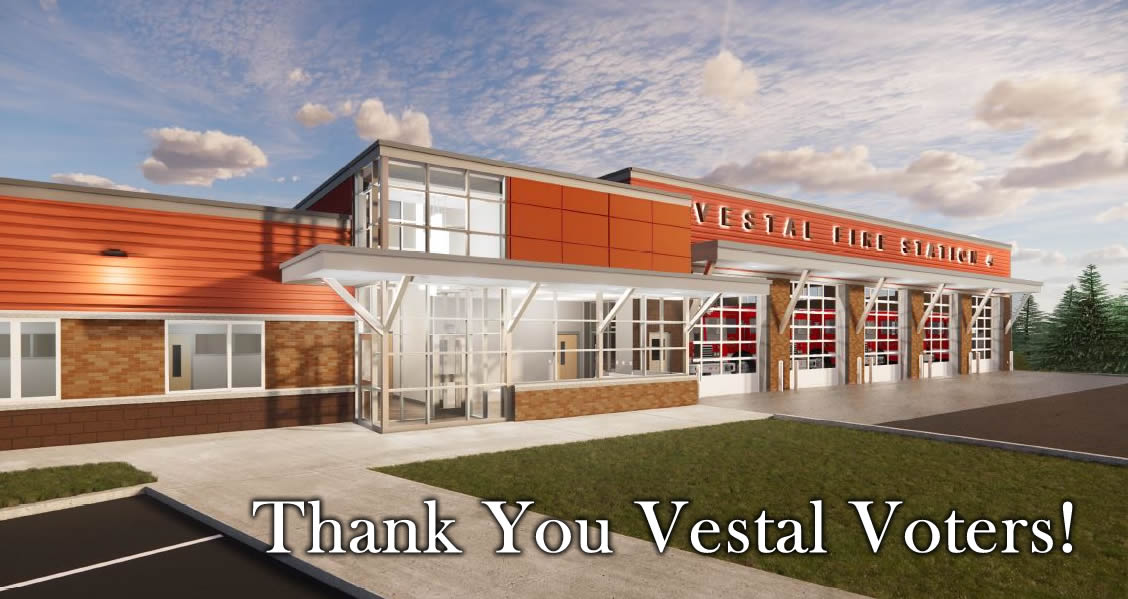 ---
Project News
01/25/22 - Public referendum held. Voters approved moving forward with construction of new station.
01/11/22 - Public Hearing held with Vestal residents.
7/10/20 - Architect has completed assessment of property and existing building. Fire Dept are reviewing Architects preliminary information for questions and answers. Fire Dept representatives have met with Town Engineer to review assessment. Unfortunately, the COVID-19 event has impacted the planned progress of the project.
12/04/19 - Building Committee provided comments and questions to the Architect based upon our review of their Kick-Off meeting documentation.
11/11/19 - Property site surveyed and mapping of the property is underway; various site tests being performed; sewer line and water service to be assessed. Building Committee reviewing Architect documentation from the Project Kick-Off meeting.
10/10/19 - The building committee met with the Architect on 9/26; architect toured the American Legion property; kick-off meeting included review and discussion of a survey on questions for listed uses of the current/future building.
9/16/2019 - Update : Building Committee met on Thursday 8/27 to prepare for the Architect joining the project; Architect's preliminary questions form was answered, kick-off meeting with Architect and building committee is scheduled for late September.
8/6/2019 - The Board of Fire Commissioners authorized on 7/24/19 Fire Commissioner John Schaffer to sign agreement with Bergmann Associates, Architects, Engineers, Landscape Architects, and Surveyors DPC to design and support construction of a new fire station #4.
7/3/2019 - Completed the proposed Architect contract for submittal to the Board of Fire Commissioners.
6/3/2019 - Working with Town Engineer and the recommended Architect on a proposed contract for Board of Fire Commissioners review and approval.
5/8/2019 - Update: We have reviewed several Architect firm submittals and recently selected one for recommendation to the Board of Fire Commissioners.
---
Current Project Timeline (reverse order)
03/6/19 - RFP due back to begin review process
02/6/19 - RFP for Architect/Engineer sent out
10/9/18 – Closing on American Legion property
05/22/18 – Public Information Session, powerpoint information utilized
05/09/18 – Fire Commissioner resolution authorizing property purchase
1952 - Current Station #4 built
1984 - West side addition added
01/2011 - 05/2012 - Hueber-Breuer performed a feasibility study. The mission statement stated this was an In depth analysis of Station #4 to determine its ability to meet the needs of both the members, and more importantly, the Community.
This study was a comprehensive review to include potential solutions for current identified deficiencies, conduct thorough research to determine how the current facility affects the service the Department provides, and review both historical data and current trends in the Community in order to position the Department well for the next 50 years.
The goal of the study was to find the most cost effective method for addressing any identified deficiencies. All viable options must be conscious of the financial impact, potential streetscape aesthetics, and above all relate to the safety of the Department members and the Community.
2011 – 3 Community Forums were conducted
06/2011 – An inspection/assessment was also conducted of Station #4 by Hueber Breuer which found
Dated materials, fixtures, and systems
Outgrown the building size, with limited space for equipment and storage
Settling issues and cracks, as well as drainage issues
Dated interior conditions
Problems with building systems
Age, rust, and deterioration
Fails to meet numerous State and National Codes, FEMA, and NFPA standards
Options explored in the feasibility study included:
Demolish and rebuild a new building on the existing site
Repair/renovate the existing structure
Demolish the original station, and build an addition
Renovate the existing structure, and add an addition
Demolish existing structure, and build new on a new site
Explore consolidation of fire stations
Add a 5th station at a new site
Build a multipurpose building
Scoring favored option #1, followed closely by option #5, with reasons for favoring #1:
Maintain/improve response time to incident scenes
No vacant building created
No costly land acquisition
Optimum responder progression provided
Scoring items of option #5 that advances it ahead of option #1 (2018 update - current Legion site advances over the 2011 evaluation, when no viable/good other sites were available at that time):
Sufficient parking
Physical space for future growth
No temporary relocation required during construction
08/2015 – New team was established to refine/revise the project, review the feasibility study, highlight issues and shortcomings and update the concept
Size to meet current and future needs while still maintaining reasonable constraints
Meet requirements of

The Wicks Law
Prevailing Wage Requirements
Essential Facilities Codes
01/2017 – Review and Exploration of other potentially viable locations
05/2017 – American Legion interested in selling the property to the Fire District