2019 Fire Expo
at the Lowes Parking Lot

This year's fire expo was a huge success! We had a great crowd and awesome demonstrations! Thank You Lowes once again for the use of your parking lot, and your great hospitality! Thanks to all the agency's, vendors, and volunteers that showed up and gave their time to make it such a success! Here is a quick highlight video of the Expo!

You can view all our Expo Pictures in our Fire Expo 2019 Album on our Facebook Page!
---
2019 Firefighter 5K Challenge
The Heating season is upon us.

Please be careful when using alternate home heating methods. Here are some Home Heating Safety Tips!
Check your smoke alarms at least once a month
Install Smoke Detectors in every bedroom!
Keep your bedroom doors closed at night! "Close before you Doze"
Have Carbon Monoxide alarms installed and working in your home. Check your local code for requirements
For more home heating and alternate heating source safety tips, go to the
National Fire Protection Association (NFPA)
Home Page! (Open hyperlink in separate page.
---
Have you changed your battery's lately?
You should be changing every 6 months.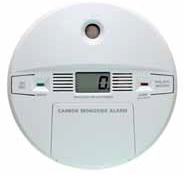 ---
Vestal Fire Department having a Blast at the Vestal Town Picnic held at Arnold Park! Enjoyed all that stopped by to visit with us! Thank You!
Vestal Fire Department assists the City of Binghamton on a River Search
On Thursday, July 12, 2019, the Vestal Fire Department assisted the City of Binghamton, on a river search, after a report of a man jumping into the Chenango River from the Memorial Bridge in Binghamton. The Vestal Fire Department put two boats into the water and searched the river for about 90 minutes. The river was so shallow at Harold Moore Park, the boat launching site, that it was necessary to back the Utility Vehicles way into the water to float the boats. No one was found during the search.
Photos by George Allen
---
---
Vestal Fire at Our Lady of Sorrows.
Father Donovan said a prayer and blessed tower 4 with holy water. Fire prevention with the cildren, along with a back pack giveaway.
Friday Night standby crew in action
---
Pump Operations and Drafting training 7/9/19
Most residents when they think of fire protection in the town, think of fire hydrants, businesses, SUNY Binghamton, and developments which Vestal Fire provides fire protection to, as this is what most people see during their daily activities traveling the Vestal Parkway. But Vestal Fire covers over 50 square miles of territory with our four strategically located stations. Here, Station #2 is training on getting alternative ways of obtaining water to fight fire in our rural areas where we have to ferry water using our tank trucks. They were training at a Dry Hydrant site which one of our residents graciously put in for us to use to obtain water using different methods. This gives us a water source closer to ferry from where we would not have to go off the hills to use a hydrant in the valley, saving us precious time.
---
Vestal Fire Department assists in giving a hero's welcome to Rick Yarosh into his new home
---
Car Fire Safety
With the height of the cooling season here, please be safe with your Air Conditioners, Fans, and extension cords
Five Common Causes of Electrical Fires
Use Extension Cords Safely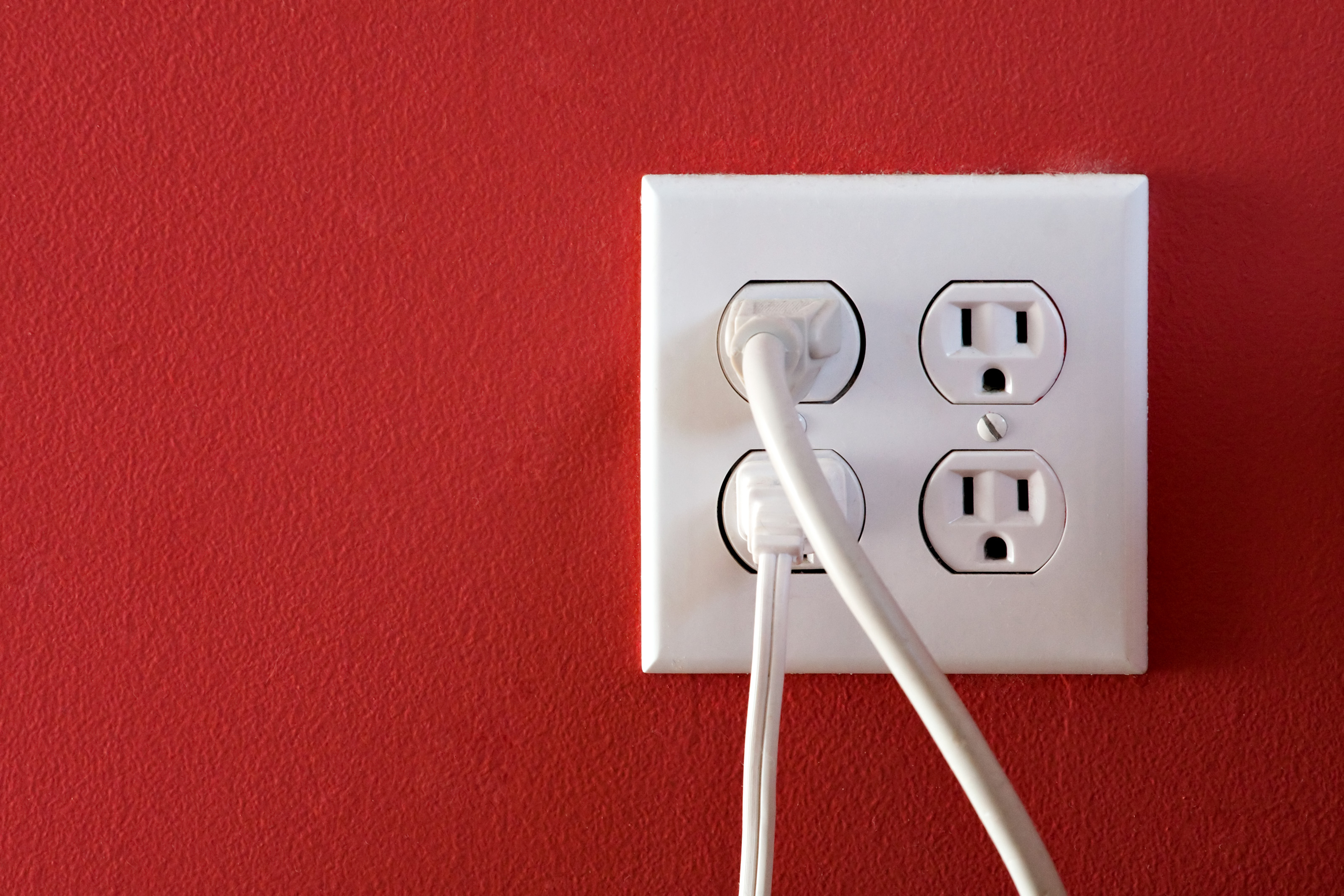 ---
Training with the Friday Night Stand By Crew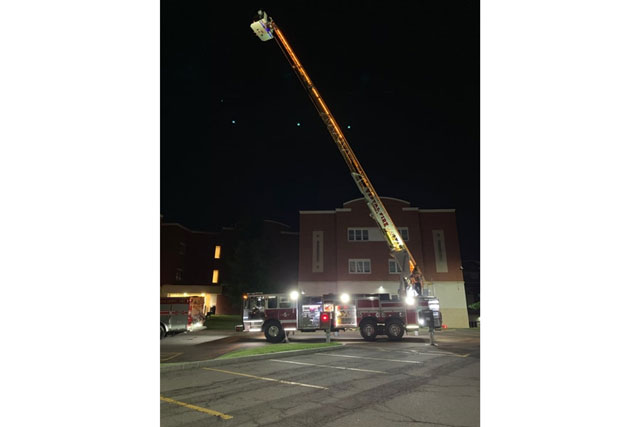 ---
On April 29th, Vestal Fire Department trained with East Main fire at the Fred Singer training site.
---
Burn Ban in Effect
The yearly Burn Ban runs between March 15th and May 15th. This can be extended depending on conditions. If you decide to burn during the ban, and get caught, costly penalties can be incurred. Once the Burn Ban is lifted, there are still restrictions on what, how, and when you can burn. Check your local ordinances on open burning. Learn before you Burn! Please abide by the law!
---
---
Officer Leadership Training
This past March, Fire and Staff Officers had their annual leadership training. This training included guest speakers on topics from the importance of training in the fire service, familiarization with gas meters and traffic incident management. Concluding with a round table discussion with the Chief and Assistant Chiefs.
---
February 3rd, 2019 Annual Required Ice Water Rescue Training
The Vestal Fire Department's Water Rescue Team along with water rescue members from Endwell, Conklin, and Johnson City participated in the required annual ice water rescue training in Vestal. Three stations were set up on a pond were the team members could practice different rescue techniques used in ice water rescue. Below are the listed objectives, and the techniques to be used at each station.
Objective:
Define the SANE approach to ice rescue
Identify the two types of self-rescue techniques
Identify and describe two uses of watercraft in an ice rescue situation
Utilize ice rescue techniques in different field scenarios at an ice site
Throw techniques
Identify the proper way to handle a hypothermic patient and the steps that need to be taken to prevent further heat loss once the victim is rescued
Describe how to develop an operational plan
Go with Rescue Sling
Equipment used:
RDC
PFD
Mustang & Dry Suit, Helmet
Ropes, Ice Picks
Sling, Rescue Stick
Station 1:
At this scenario, the rescuer will demonstrate the proper throw bag technique. The rescuer must be Throw the bag 2x in a distance of 50ft within 40sec. then pull the victim ashore. Also, the rescuer will use the Rescue stick and pull the unconscious victim out of the water.
Station 2:
At this scenario, the swimmer must be able to perform 2 different types of self-rescue.
Self-rescue using just their own momentum (using just elbows and feet).
Self-rescue using the ice picks.
Station 3:
At this scenario, a victim has fallen into the ice and the rescuer must use the RDC to reach the victim. The rescuer must show the proper technique and approach with the RDC. Once the rescuer reach the victim; the rescuer will use the Sling to pull the victim onto the RDC.
Station 4:
At this scenario, each rescuer will perform a victim rescue. They will 1st coach the victim to; self-rescue. If the victim cannot self-rescue, the rescuer will perform the following skills:
Reach - using a reaching object to extend to the victim
Throw - if the victim is too far to reach throw a PDF, Life Ring, or some sort of floating device
Row - if a boat is available, row out to the victim and use the paddle to pull the victim in
Go - if you must swim take a floating device with you
---
2019 Fire District Budget
On Tuesday, October 16th, a public hearing was held at the Town Hall presenting the 2019 Vestal Fire District Budget. Click here to view the presentation.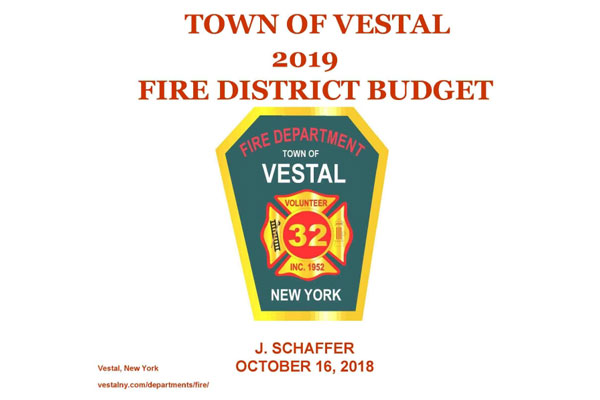 Vestal Fire Prevention
Vestal Fire Prevention completed another round of fire prevention activities with the various schools within our district along with some outside of our district. Here are some pictures of a recent Fire Prevention activity held at BOCES with our Brothers and Sisters from Choconut Center Fire Department!
---