Vestal Fire Safety Expo
---
Vestal Fire responded to a second alarm fire on September 13th
Vestal Fire had a memorial service for the 20th anniversary of the 9/11 attacks at 4 corners park
---
Vestal Fire Department joined the Vestal Police Youth Academy in demonstrating one of our duties in setting up and operating an Emergency Landing Zone with the help of the brothers and sisters at Life Net
---
---
A Recent Department Training with our Brothers and Sister from Vestal Emergency Squad and Vestal PD
Burn Ban in Effect between March 15th and May 15th
Please follow local and State wide outdoor burning guidelines! We would not want to make an un-planned visit to your residents
FASNY Volunteer Firefighter Scholarships available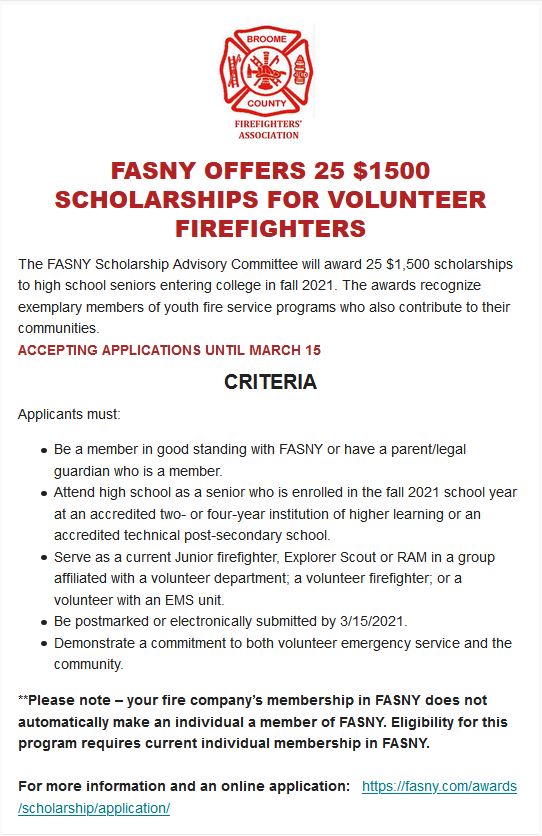 Here are a couple historical videos you all might enjoy
Early VFC Life Fire Training
The New Station 3 Dedication
---
Rural Water Supply Training at the Fred Singer Training site. When there isn't a hydrant, we need to bring water with us!
October is Fire Safety Month
Here are a few Safety Tips!
Check your smoke alarms at least once a month
Install Smoke Detectors in every bedroom!
Keep your bedroom doors closed at night! "Close before you Doze"
Have Carbon Monoxide alarms installed and working in your home. Check your local code for requirements.
For more fire safety tips, go to the National Fire Protection Association (NFPA) Home Page!
---
When was the last time you checked your detectors?
---
---
Safely Training
During these uncertain times, Vestal Fire Department continues to train using on-line training, and using social distancing practices and face masks to continue to provide you with the best fire protection we can!
Vestal Fire Department with the 2020 Vestal High School Graduation Parade
---
Up in Flames! Digging deeper into declining membership
The following is a recent Channel 12 WBNG News coverage relating to the need for new volunteers to join our ranks in the fire service. We are also experiencing a major decline in membership in Vestal, along with all other local departments. PLEASE consider joining today!
---